How to Generate Traffic to Your Blog [EP 12 The Blog Chronicles]

Hello and welcome to this episode of The Blog Chronicles. I'm your Host Matthew Loomis.
This show is sponsored by Build Your Own Blog dot net. The full-service destination for people that want to start their own WordPress blog and achieve long-term success.
My guest today is Ana Hoffman. Ana runs a popular blog that's all about generating website traffic, how to do it. The best ways to generate traffic, the not so best ways of generating traffic. What works, what doesn't work.
And she packages her valuable information in content that reflects her personality. She is very engaging on social media and is really good at keeping her e-mail subscribers informed.
I started following Ana on Google+ about four years ago and I noticed right away that she was one of the best at delivering the very best tech news and bringing digital marketing break-through to her audience.
If something important happens that impacts the blogging community or the internet business community, Ana is always leading the pack in knowing what's going on.
Delivering that news to her followers in a way that helps them understand this new information quickly.
In this conversation, I'm not only going to talk to her about blogging and traffic generation. I'm also going to ask her some personal questions. Because I think she has a fascinating personal story, that you will find compelling as well.
So without further ado, let's talk with Ana Hoffman.
How to Generate Traffic to Your Blog: Ana Hoffman
How to Generate Traffic to Your Blog
Ana Hoffman Interview Transcript
( For those who like to read.)
Introduction
Matthew Loomis: Hi Ana.
Welcome to the show!
Ana Hoffman: Hi Matthew.
Thank you so much for having me.
How Long Have You Been  a Blogger?
Matthew Loomis: So Ana.
How long have you been blogging?
Ana Hoffman: You know at some point.
You kind of stop counting.
But I think it was about five years ago.
Matthew Loomis: Five years ago.
Okay.
Ana Hoffman: Yes.
Tell Us About Your Very First Blog Post.
Matthew Loomis: Tell us a little.
About your very first blog.
Ana Hoffman: Mmmm, let's see.
Actually, typically Generation Cafe is my first blog.
Matthew Loomis: Okay.
Ana Hoffman: However.
After about a year of running it.
With the original layout, the original name. I completely re-branded it to what Traffic Generation Cafe is today.
I gave it a new name which is Traffic Generation Cafe and I kind of refocused it on traffic generation topics. So then again the bones are still the same.
It's the same blog.
I have left all the original blog posts but just took it in a completely different direction.
That's sort of one of the things about business that I learned – You need to be able to adapt to a change in a situation.
A change that is taking your business in a different direction.
That's kind of what happened for me.
The first topic, the first niche was not working very well for me. So I kind of just said;"You know what"? "That's okay, to start from scratch"!
And that's what I did.
Matthew Loomis: Very interesting.
So you kept the name – Traffic Generation Cafe?
Ana Hoffman: No.
That's a new name. My first name was.
Matthew Loomis: Oh.
Well…
Ana Hoffman: Well.
The previous niche was about attraction marketing.
That was sort of a hot topic at the moment
Matthew Loomis: Okay.
Ana Hoffman: But then I realized.
Because it was such a hot topic a lot of people started talking about it and diluting it.
I didn't like that.
I wanted to talk about something that more longevity and more credibility. Plus while I was writing my attraction marketing blog – I have realized I had one problem. Because there were so many blogs popping up on the subject it was getting harder and harder to drive traffic to it.
Originally I started that blog to support an existing business of mine.
I knew nothing about blogging I was just told like many of us online that a business needs a blog. But I had no idea really what the blog was for and how it was supposed to support the business. And most importantly – How a blog was supposed to drive traffic to my main business, right.
Matthew Loomis: Right.
Ana Hoffman: So.
I didn't understand any of that.
Again I just started a blog because I was told to. I needed to.
And as I was blogging… And again I really had no idea what to talk about. You know probably the kind of questions every starting blogger or business owner who was told they need a blog.
We all kind of face those questions.
So as I was blogging about whatever, I wasn't getting very good results. Yet spending my time doing it. I started analyzing and learning about blogging. And analyzing what was working and what was not working. And kind of learning; So how to I drive traffic to this blog of mine and how do I drive traffic to the business.
And that's where it started to click.
All of a sudden, I was starting to learn different traffic generation techniques. What occurred to me was I did not have any one central place that I could trust that I could go to and learn about traffic generation.
Of course I kind of thought; Well if I need to know all those things – I bet you there are other people who are looking for the same kind of information and are struggling to find it.
That's how the idea of changing my niche started.
I started blogging and that's how Traffic Generation was born.
When Was the Name "Traffic Generation Cafe" Born?
Matthew Loomis: Okay.
So Traffic Generation Cafe.
How long have you been using that name?
Ana Hoffman: Probably about four years now.
Matthew Loomis: Okay.
Yeah. I thought it was the whole time I've known you online.
Ana Hoffman: Right.
Since I didn't know how to establish a presence online for the first year.
Nobody, fortunately, knew about my first failure.
That's why I'm very happy to talk about it because it's just as important and failures are just as much a part of who we are today as our successes. So I am very happy to say "Yep, failed at the first one"!
But that was a good thing because it taught me how to do the second one right.
What Made Your Business Fail the First Time Around and What Did You Do to Change Your Experience?
Matthew Loomis: Okay.
So in a nutshell like a short synopsis, what failed.
Why did it fail and what did you learn from that experience?
Ana Hoffman: Again traffic was the main…
Not being seen by others was the main problem. So without that.
Without understanding how business works. You can't really make your business work, right.
The main failure there was a lack of research.
I just basically did what somebody told me to do without understanding why. That's not a very good idea EVER!
So even when you come to traffic generation cafe and honestly I just think it's the best blog in the niche out there. I'll be honest with you.
But despite the fact that, I think that.  You could probably use most of the information I publish there. That probably is really truly not true because you still need to take that information and apply it to your business.
Some things might work and some things don't.
Just because I say it works. Don't take my word for it.
Matthew Loomis: Right.
Ana Hoffman: You still have to.
Do your own research and try to figure out how to make it work for yourself!
So that was my main problem. I relied on people whom I shouldn't have relied on. And I started something that I had no business starting.
But again, it turned out well in the end.
But for many people who are starting to blog online or just developing any kind of online presence. They give up too quickly because they haven't done enough research. Or haven't put in enough effort to make that research work for them.
Matthew Loomis: Yeah.
Absolutely!
So you took your love for traffic generation and your love for coffee and put it together 🙂
Ana Hoffman: Put it together.
Right.
Your First Niche Was Online Marketing, Right?
Matthew Loomis: So.
Online marketing has basically been your first niche or the niche that you started in?
Ana Hoffman: Yes.
That's pretty much where I dove in right away.
Matthew Loomis: Okay.
Yeah.
We're going to get a little bit more into why Traffic Generation Cafe is so awesome.
Ana Hoffman: Huh?
You just take my word for it?… Come on.
Matthew Loomis: Hahaha…
No.
Well, I've been a consumer of your website and your newsletters and so that's why I've got you on today.
Ana Hoffman: Yeah.
That's really good!
How Does Traffic Generation Cafe Help People?
Matthew Loomis: Online marketing was your first niche.
So how does your website help people like in one or two sentences?
Ana Hoffman: One or two sentences.
Seriously?
When I first started I discovered two needs for brand new owners.
Number one. For the most part, we all lack money. That's why we start a business.
We're not starting a business because we got all the money in the world already.
So I needed something that works on low or no budget.
That was number one.
The second one was; When I blog I talk like I think which is in bullet points. Which turned out to be a pretty good thing because that makes what I write very simple to understand.
Matthew Loomis: Yeah.
Ana Hoffman: All those blogs that you try to…
It's like pulling teeth.
You know the information is good and you can benefit from it.
But if it takes you an hour just to get through the post! It's like reading Dostoyevsky;
Fyodor Mikhailovich Dostoyevsky [a] (/ˌdɒstəˈjɛfski, ˌdʌs-/; Russian: Фёдор Миха́йлович Достое́вский; IPA: [ˈfʲɵdər mʲɪˈxajləvʲɪtɕ dəstɐˈjɛfskʲɪj] ( listen); 11 November 1821 – 9 February 1881), [b] sometimes transliterated Dostoevsky, was a Russian novelist, short story writer, essayist, journalist and philosopher.
https://en.wikipedia.org/wiki/Fyodor_Dostoyevsky
https://en.wikipedia.org/wiki/Fyodor_Dostoyevsky
That's why nobody read him because it's so…. Difficult!
But my blog is easy to read and it will give you information on how to drive traffic on the cheap.
Matthew Loomis: On the cheap?
Okay.
Ana Hoffman: Well.
Money. Really
I mean I really am focused.
That's the reason I don't do paid marketing at all. Not because it doesn't work, it does work. But because I want to do myself what I'm talking about on my blog.
It wouldn't be fair if I'm getting hundreds of thousands of visitors because I pay for them. Yet I blog about free traffic generation, right.
Matthew Loomis: Sure.
Ana Hoffman: Yeah.
So basically all the traffic that I get myself is absolutely free.
Because I use the exact same methods that I teach you to use. 
I Love the Way You Are Always First With Fresh and Accurate News From the Tech World!
Matthew Loomis: Okay.
I've been following you online for a few years now.
And I've noticed that you are always one of the first bloggers out there to share breaking news in the tech world. You always seem to be ahead of the game as far as when it comes to things like – What new tools are available on who is offering some cutting-edge teaching out there in breaking news.
This has built your reputation as an influencer in online marketing.
And then you curate all this great information into a newsletter called: Weekly Marketing Skinny.
Ana Hoffman: Mmm mm.
How Successful Has "Weekly Marketing Skinny Newsletter" Become on Your Blog?
Matthew Loomis: You have included some of my content.
A couple of times in that newsletter and it really is a great newsletter.
So how important has your e-mail newsletter been to the success of your blog?
Ana Hoffman:  You know.
It's been wonderful!
To be quite honest and when I first started doing it, it wasn't my intention to start a new trend for Traffic Generation Cafe by any means.
It was just I myself was so tired of feeling behind at all times because things happen in the marketing world on a daily basis. And what business owner has the time to keep up with them. I certainly didn't but then the result was it seemed like everybody else was ahead but I was always behind.
Which is also not true.
Some people just keep updated on certain things and what not. Then again I just didn't want to be behind anymore. So I sat down and I started like a new feedly RSS feed, where I fed a lot of blogs that are the due report about the news.
All kinds of news because I just wanted to know everything about marketing you know.
Matthew Loomis: Yeah.
Ana Hoffman:  And then over time.
I kind of waited out the ones that I found were not  so new's worthy.
That were not credible that wasn't that good that couldn't really apply it to an online business. And the I ended up with a very good list and you know on a daily basis I probably skim through about a hundred posts at least a day.
That's a lot of reading.
Matthew Loomis: Yeah.
Ana Hoffman: But, once I started doing it.
I got addicted to being in the know.
And oh, when I skip a week or two of reading or sometimes I go on a trip and it's just not viable to read the news. I really feel lost because now I come back and I'm the last one to know.
Ag I hate that. Hahaha…
So again. I started reading the news and then, of course, it occurred to me; Well I'm reading them anyway, right. I might as well make the best of it and start writing about them at Traffic Generation Cafe.
And that's how Weekly Marketing Skinny was born.
I have been doing them for about two years now. There are at least two things, well at least two good things that happened out of it.
First of all. It keeps me on topic and it keeps me just focused on certain things that in turn ended up benefiting my readers greatly. And then that gave me a way to build relationships that I wouldn't have built otherwise with certain people.
As you said. It did make me a certain authority in the marketing industry because I do know certain things that other people might miss.
Another thing, of course, is building my newsletter.
A lot of the people subscribe to it because they want to get that Weekly Marketing Skinny in their inbox. So there are a lot of good things that came out of it. And as a matter of fact, I am just working on the newest one right before I jumped on the call.
So yeah. It's been good all round. For business and for me personally.
Matthew Loomis: Yeah.
You are such a great force of breaking news.
That's the first thing I think of when I think of Ana Hoffman.
Ana Hoffman: Thank you!
What's Your Main Focus for Traffic Generation Cafe, Is it Content Curation or Content Creation?
Matthew Loomis: So.
I'm curious.
Like just a percentage of your work that you do for Traffic Generation Cafe.
How much of it is content curation and how much of it is content creation, would you say?
Content curation is the process of sorting through the vast amounts of content on the web and presenting it in a meaningful and organized way around a specific theme. The work involves sifting, sorting, arranging, and publishing information.
Content creation is the contribution of information to any media and most especially to digital media for an end-user/audience in specific contexts.
Ana Hoffman: I don't want to be known.
As content curator.
That's not what I'm about.
It's almost my side gig that I do and because I like to do it and I feel I need to do it. So sometimes it does happen that my Weekly Marketing Skinny is just about the only thing that I publish in a week.
When I write a blog post. Honestly, I put so much into it and I beat myself up over it. But it is what it is.
Every time I publish something I really want to know what I'm talking about.
There are way too many posts out there that I read. Even on very well-known marketing blogs. And then I go; "Oh my, that really is not true"!
So what do I do? Make a stink about it, let the business owner know about that?
And then they'll probably take it personally. They'll never talk to me again… Blah…blah…blah…
So I don't want to be in the same situation when somebody comes to my blog.
And all of a sudden they feel the information I provide is not credible because I haven't done my research well. So I research everything. I link out probably way too many articles out there.
But I want to support everything that I say.
And then my posts just get's to be very detailed. So what I started doing lately, is cutting them into smaller pieces.
Traffic Generation Cafe to me is sort of evolving more into bite-sized marketing.
That in my mind is what I'm the best at and that's what I feel people need to have these days. Nobody really wants  ten-thousand-word posts. You know, those things get a lot of shares and a lot of links.
And I understand why.
But truly. How many people sit down and take a few hours and really read those posts and implement them and take them back to their businesses?
Very few people really because it's just too much!
It's too much information.
So what I am trying to do now is to provide information in very bite-sized chunks. So that a business owner can say; "Okay this takes me five minutes to read, digest and figure out if this is something that I might be able to apply to my business"
To me, I think that's a lot more helpful to people. Then just making this humongous epic post that nobody will use.
You're So In Tune With Your Audience, You Know Exactly What They Want, Right?
Matthew Loomis: Wow.
So you've really gotten in tune with your audience.
And you know that's what they want.
Ana Hoffman: I hope so.
We truly never know.
But it seems to be judging by the feedback I get. And by the e-mails I get.
This is what people want.
And you know content marketing. I have been thinking about it quite a bit lately. It's over saturated at this point because everybody does content marketing. Not very well but everybody's doing it. It's getting harder and harder to catch people's attention.
Content marketing is evolving, nobody just quite knows what it is evolving into.
Certainly, video is making it into content marketing with live streaming and more visual.
This is something that people have been talking about for a long time. Yet we still continue to talk about it. So maybe the trend hasn't settled yet. Maybe it hasn't gotten over the hump yet.
But what I think of videos and visual content…Don't you think Matthew, wouldn't you agree that you think of something that makes it easier to consume content?
That has nothing to do with huge blog posts.
So again it's just my personal analysis of what's going on in the industry and where content marketing is going to.
It's always nice to be ahead of the curve or even set the curve.
To me, it seems like it's going more into bite-sized marketing versus those epic posts.
Matthew Loomis: Mega. Mega posts.
Yeah.
Ana Hoffman: Mmm mm.
Matthew Loomis: Yeah.
I saw on your YouTube Channel, that by 2020, I believe it was 84% of all traffic.
Was going to be through video?
Ana Hoffman: Yes.
It's not my statistics.
Cisco published a very nice report and these were their findings.
Source: 84% of Internet IP Traffic Will Be Video – 2014 Cisco Forecast http://tubularinsights.com/2018-internet-traffic-video/#ixzz4NchxaxAL
©TubularInsights.com, All Rights Reserved
Obviously, this is the future of content marketing. The future of marketing. Period.
I can see that because fewer and fewer people want to read. At the same time if I have to sit through an hour an hour and a half of video, just to learn five bullet points? Am I going to do that? Absolutely not.
So that makes no sense either. So again.
Content marketing has to be very specific.
When I think of content marketing – It can not be; "Well it just means I can produce whatever videos I want, and people will consume them because Cisco said that they will"!
No. If everybody does that? Then once again you have to find the edge to your video marketing and make videos differently from everybody else.
So that people can actually watch them and want to watch them.
So this is the kind of challenge that all business owners will have to deal with.
You kind of get settled in your marketing ways and then you have to learn something new. That's how any business works. So don't feel like, (if your listening) "Oh crap now I'll have to change everything"!
Changing everything will never end!
Matthew Loomis: Yeah.
Ana Hoffman: You just have to evolve.
With the trends.
With what's going on around you. With what people want to consume your content and how people want to find your business.
This will be ever changing so just keep your ear to the ground.
And listen. Go where your customers go.
Matthew Loomis: Yeah.
Ana Hoffman: Hang-out.
Keep your ear to the floor and listen to what they're talking about.
You'll always discover things that your competitors will definitely miss because they might not be listening well enough.
What Changes Do You Predict for Digital Marketing in the Next Six Months?
Matthew Loomis: That's well said.
You just created the perfect segue to my next question.
So speaking of changes… And this is going to show off your knowledge that I keep bragging about.
What are some of the changes that you see coming down the digital marketing horizon in the next six months?
Ana Hoffman: Oh.
You know. Good question.
I see, obviously a lot of things.
Things that are actually applicable.
What I see is individual conversations, that is where everything is going to.
Like for instance; Social media marketing; When we first started it – Twitter Facebook, whatever it was. Everybody was still broadcasting and you still could get tons of traffic just from posting a bunch of links.
Everybody else was doing it.
And it was working because we wanted to consume content that way. That was working well for everyone. That was way in the past. Now people don't just want to see a bunch of links from anyone.
They want to be heard. They want a conversation. And what I'm saying is a lot of people are missing out on that critical piece.
They're not there to engage and to talk with their readers, with their consumers of their products. They're kind of just dishing it out but they're not willing to be on the other side of the conversation piece.
So when somebody comes to your blog…That's why I think a lot of blogs, which is so silly to me. Let's say marketing land and search engine land. I'm sure a lot of those listeners read those blogs or at least know about blogs.
Well, they shut down their system and say; "We'll go to Google+ Facebook or Twitter to continue the conversation"
I can't really continue the conversation. Because when I click on those links? It just takes me to their social media accounts.
Matthew Loomis: Right.
Ana Hoffman: And now what?
I'm supposed to do all the work and post all the links.
And ask my questions. Tha's too much work for me!
Matthew Loomis: Yeah.
Ana Hoffman: I'm not going to do that.
Yet. So many times I want to talk to them about things that they post.
Because I want to know more or I disagree.
And Instead, I just walk away.
So I know I'm not the only one.
They're missing that vital important individual conversation with their reader. As a result, I become just a consumer of the information.
There's no interaction.I still read it. I still benefit from it but there's no mutual benefit of any kind. Maybe they'll make a few bucks on their ads that are displayed while I'm there. There's a pace but they're not really making a business out of me.
And how many readers like me come to their blog?
So again people are missing out on individual conversations.
Yet if you think about it, this is where marketing is kind of heading. That is exactly what all the bots are about out there. This sis all of a sudden everybody's talking about different bots  and everybody wants to integrate them into messaging  systems and into businesses.
And just introducing bots into the conversation. It has two specific implications. And that is the fact that people want immediate answers.
They want to talk to someone yesterday, right.
This is kind of how we're being brought up. This is the kind of society we live in. We want answers yesterday. Thus companies are creating bots. However on the other side of things.
Those bots are not people!
They won't give me the kind of answers that I want. So yes there is a need for an individual conversation. Bots may seem like an answer but they really are not.
They can perform specific functions and they can answer specific questions. But they're really not feeling the need for customers to talk to the companies and find answers.
Matthew Loomis: Yeah.
It knows everything, right. But what it doesn't know, is anything about how to work with a person. And how to understand you and how to make you feel better when you're sad.
A robot can't do that! 
Jessica Sweet – The Blog Chronicles Episode 9
Ana Hoffman: So again.
Do I have an answer?
No. I just see the trend. And I see that people are trying to fill the void. But not really successfully, but very business will pretty much have the challenge of being there for their customers and consumers and on social media, if you think about it.
And that I don't understand, I don't know how that logic works.
But have you noticed that a lot of marketers with huge followings? They publish something and it could be the worst blog posts, yet in like an hour they have a hundred re-tweets.
Just the sheer number of their followers.
The problem is, if I ask them a question they will never answer because they're bombarded by their followers and by questions.
Again we are talking about the same thing that is happening with marketing land and search engine land not having the comments. Those marketers are disengaging their followers from talking to them again.
And there has to be a solution.
They are missing out on that important individual conversation. As a result, people stop engaging their content. People stop engaging with their brand and even though they still have the need for that content you know there's a disconnection there.
Matthew Loomis: Ana.
Don't you think those brands will come around like some other big brands have done and re-open their comments?
Ana Hoffman: I don't know.
I hope so.
Matthew Loomis: Yeah.
Ana Hoffman: Honestly.
All businesses are not built on numbers.
They are built, whether we want to think about it or not – On each individual person.
Each individual customer being sold on our brand. One person at a time. That's the way it is. I'm not saying that mass marketing doesn't work. Let me give you an example…I still believe that number, pure numbers work. So when I am on social media. Especially when you first start on social media, I truly believe you should go for the numbers. The more followers you get the better.
However what people don't understand is that you still need to engage with those followers. Each and every one of them and see if they're the right fit for your business or not.
One of the things that I did very successfully at the beginning of Traffic Generation Cafe and I don't know if you've read that anywhere Matthew before. But I focused very much on Twitter and I decided that Twitter will become my very first traffic generation platform.
For me to test it and see if I could really drive hoards of traffic to my blog from Twitter and make Traffic Generation Cafe a success and I did it in two months. You're not going to believe. But in two months people were coming to my blog. Thinking that I was there for years. They could have sworn I was there for years.
Everybody was talking about it and nobody knew that it was a brand new blog.
And I did it all with Twitter. Number one. (And I know a lot of people will turn away from me and say I'm not going to listen to that girl ever again) But it's true. I used a lot of automated software. To find and create as many Twitter followers as I could. But what I  also did is, I tried to make it personal for them. I tried to bring as many as I could back to Traffic Generation Cafe.
Hahaha…I'm saying it so many times. How about I just start saying TGC.
Is that helpful because I can't say the word "generation"  anymore, it's becoming a mouthful!
Matthew Loomis: Hahaha…
Whatever is easiest.
Yeah. From now on TGC means Traffic Generation Cafe.
Ana Hoffman: There you go.
Thank you!
Matthew Loomis: Right 🙂
Ana Hoffman: So.
I tried to bring as many of them back to my blog.
And individually connect with them. So I created a page on my blog that I called something like; "Promote Your Business" And I told my brand new Twitter followers that they can come back to my blog to TGC and promote their business and post their links and I would love to hear from them.
So basically I gave them an opportunity to talk about their business without any restrictions. I responded to each and every comment and have created a conversation at the blog for my new Twitter followers.
That has proven to be quite a success because all of a sudden people felt like they were being heard, as opposed to being just a number. Even though the numbers were growing very rapidly and they were becoming huge. Probably in the first three to four months, I raked up about one hundred thousand Twitter followers between four or five Twitter accounts.
So that's quite a few people.
So You Started With Several Twitter Accounts?
Matthew Loomis: Oh.
So you had four or five Twitter accounts.
Ana Hoffman: Yeah.
Matthew Loomis: Okay.
Ana Hoffman: Yeah.
It's almost impossible to do it quickly enough with one account.
Matthew Loomis: Okay.
Ana Hoffman: So.
Yes. I had certain special Twitter techniques that got me those numbers.
But again, even though I went for the numbers. The personal outreach was still there.
That's my point.
The individual conversation still remained the integral piece of my massive Twitter outreach.
That individual conversation is what made it work. Not the numbers. The numbers just opened the possibility to start more conversations.
Are All Your Twitter Accounts Under Traffic Generation Cafe Brand?
Matthew Loomis: So help me understand.
Are all five Twitter accounts under the TGC brand?
Ana Hoffman: Yes.
Basically.
You know how on any given blog  you have different categories? So basically that's what I did on Twitter.
Imagine each account being a separate category of traffic generation.
Matthew Loomis: Okay.
Ana Hoffman: So.
On one account I talked more about social media traffic generation. Then on another account, I talked about SEO.
Matthew Loomis: Okay.
Ana Hoffman: So.
I just created different topics within the traffic generation niche.
So then again that way.
Twitter has certain limits on how many people you can follow in one day, you know just restrictions. Obviously, I didn't want to spam. I just wanted to do it quicker than Twitter would allow me.
So creating five accounts and specializing each account according to different interests.
And of course, I've given Traffic Generation Cafe enough momentum.
When I didn't need to do that anymore then I just went back to completely organic one account.
I don't follow anybody there just about and it's growing on it's own. It's not vast but people are following me and they are learning about me. From whomever, it's all word of mouth.
It's for all natural organic marketing and that's okay with me because again I don't need the numbers anymore.
Matthew Loomis: Yeah.
But for other people that are just starting number are important no matter what others say.
Quality over quantity? I'm not saying quality is not important. It has to be there but it certainly helps if the numbers are there as well.
Have You Divided Up Your Content On Your Other Social Media Platforms As Well?
Matthew Loomis: Yeah.
So. Have you segmented your other social media platforms aside from Twitter?
Ana Hoffman: Not at the moment no.
Matthew Loomis: Okay.
Ana Hoffman: Since TGC has grown.
To be such a big blog.
It's really difficult for me to segment anymore.
You Are a "One Lady Show" Right?
Matthew Loomis: Right.
Seeing that you are a one lady show.
Or you might have had som help with that?
Ana Hoffman: No.
I actually don't.
I've tried to get help. I've outsourced a few things in the past .
What I've realized is that nobody is ME. A lot of the times my readers what to talk to me. It's like when I go to a business, I don't want to talk to an assistant who may not know what the answer is. I want to go to the person who actually knows.
On my blog since that's my primary business . It only makes sense that I am the person that people go to for answers. Nobody else can kind of fill that void.
I've stopped doing that but again if you are just starting. Segmenting and trying to acquire as many potential customers as possible. Bringing them back to your central hub, whatever that hub is. If that's your blog or that specific social media platform.
For instance, if Facebook is something that you are focusing on. If your Facebook page, for instance, is your primary business hub then there is no reason that you can't go to Twitter to get as many Twitter followers but then bring them back to your Facebook page and kind of make that your central hub.
You can do that as well.
What Automated Software Are You Currently Using On Your Social Media Platform?
Matthew Loomis: Yeah.
Can you tell us what automated software are you using with Twitter.
Ana Hoffman: At the moment.
I don't. Believe it or not.
I can't afford to generate too much useless chatter.
I can only talk to people who really want to talk. No to people who want to promote themselves and all of that.
With that in mind, I find that organic Twitter engagement is more important to me. So I really just go to Twitter dot com. That's how I engage with people who read my messages and who ask questions. I do it individually with each and every one of them.
So even if I've slacked for the past week or so, but if you go to re-tweet any of my posts. You'll hear from me directly. I will thank you for it and that's my point of having an individual conversation.
That of all thing, people will tell me back. Is that really you that answered me? Or is it like an automated anything.
No. It's never automated, it's always me!
Matthew Loomis: Yeah.
Ana Hoffman: Each individual reader.
It's that important to me!
Matthew Loomis: Right.
I like to make each of my responses unique or different, so it's easier to tell it's not automated.
Ana Hoffman: Absolutely.
The more ways I strive to make that individual connection, the stronger I feel my readers are.
Some of my readers have been with me from the very start of Traffic Generation Cafe. The reason why is because I personally connected with them.
I pretty much know everything about their family, how many kids they have…I talk to them and those are some of the best readers that I have 'till today.
Matthew Loomis: Yeah.
Something tells me you're going to get more connections through this interview.
People are going to want to connect with Ana, so get ready!
Ana Hoffman 🙂
I'm going to have to shut down all my social media.
Hahahaha…
Matthew Loomis: Hahaha…
Ana Hoffman: Seriously.
Sometimes my husband say's he needs to go to social media.
To see what I'm up to.
Matthew Loomis: Hahaha…
That sounds like my wife too.
Anyway. So let's get to know Ana a little better here.
Ana Hoffman: Yeah.
Ana, I read Somewhere That You Were Actually Born In the Soviet Union
Matthew Loomis: I read.
That you were born in the Soviet Union.
Ana Hoffman 🙂
Yes!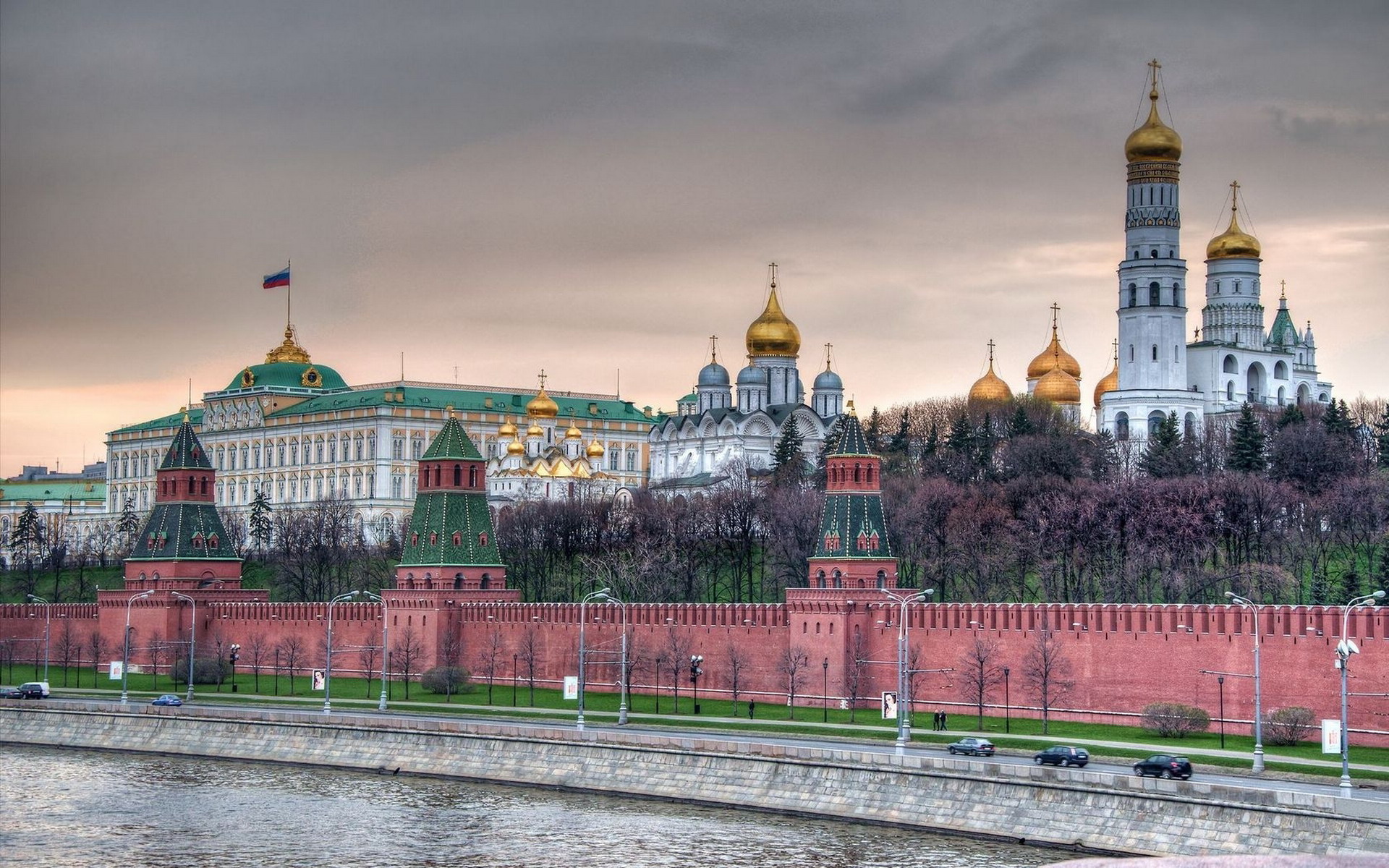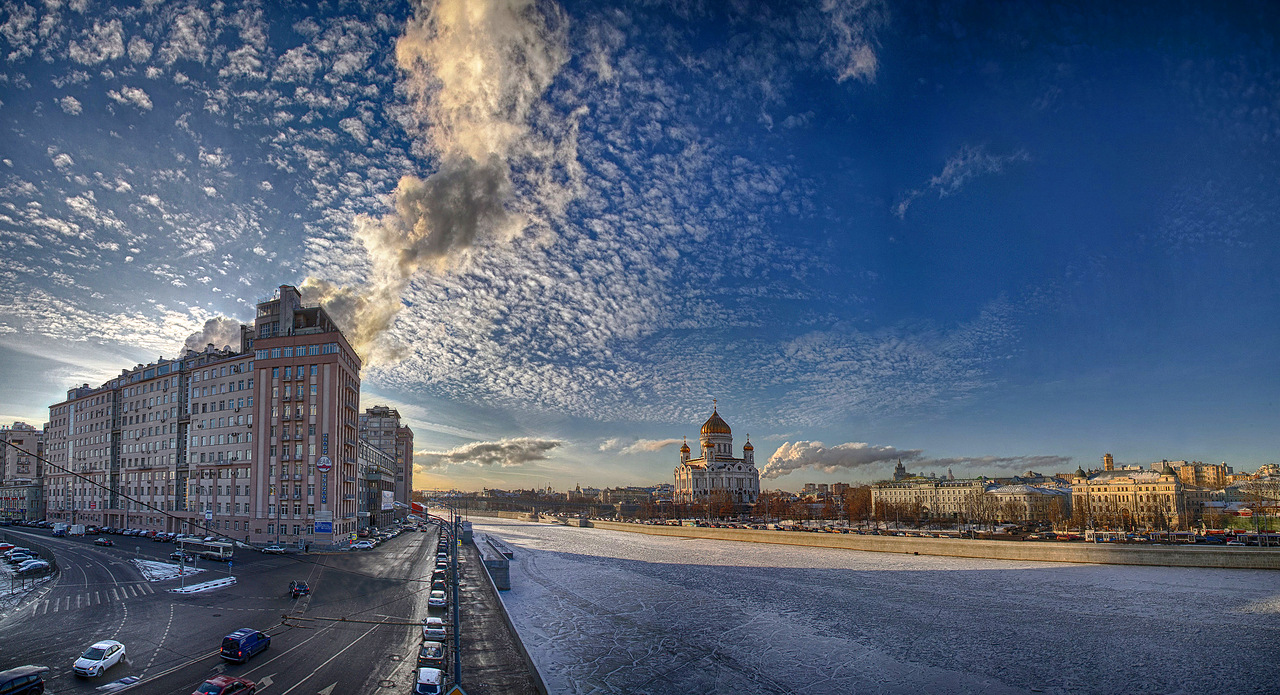 Matthew Loomis: I find that fascinating!
So what was it like to grow up in the old Soviet Union.
Ana Hoffman: You know.
I loved it!
Matthew Loomis: Really?
Ana Hoffman: It was the best time of my life!
We truly did have the best kind of childhood.
For me. I really felt it was the best childhood because I really felt like it was one big large extended family.
It might sound cheesy, but it wasn't growing up. People genuinely cared about each other. Which you don't find anymore because we are so much more segregated. It's so much more autonomy that we have these days.
With the internet and cell phones, truly does mean that the conversation is fleeing away from us.
It's not just Russia. It's just about any country that is more and more technologically advanced. That's just happening everywhere.
We miss those conversations. We miss just talking to friends!
In Russia on any daily basis somebody will knock at your door and say; "Hey let's have a cup of tea"! "Let's have a cup of coffee"!
That's how we lived and I loved that! I loved having friends!
I loved it that the Communist Party…And now that I'm grown up enough obviously and know enough. Actually, know things I might understand how some people might feel differently about it.
But I think it did give us a purpose in life.
A lot more kids went to college. A lot more kids stayed in school and we really did have a common ground with people around us. That was a good thing. We lost it now.
Russia kind of lost it's identity.
 
I think. So that's unfortunate.
Matthew Loomis: Yeah.
Interesting. Yeah.
That whole sense of community.
Ana Hoffman: Mmm mm.
Matthew Loomis: It's like today.
We talk more to people online, but we don't even know our neighbor's first names.
Ana Hoffman: Absolutely.
It's kind of going that way.
I really dislike it!
I wish it had remained the same.
I suppose that's the de-evolutionized evolution. I wouldn't call this progress because we're digressing in our relationships with people unfortunately but it is a part of the progress that we're going through.
Matthew Loomis: That sounds like.
A whole other podcast we can do on that.
Hahaha…
Ana Hoffman: Hahaha…
Absolutely!
Matthew Loomis: So.
After the whole Soviet Union collapsed.
And I read that you came to the U.S in 1996…
Ana Hoffman: Yes.
What Was It Like For You to Socially Adapt Once You'd Immigrated To the U.S From Russia in 1996?
Matthew Loomis: So.
What was it like to change.
From the Soviet society to the U.S in the mid 90's?
Ana Hoffman: I didn't love it!
As a matter of fact, I so didn't like it.
That I asked my boss to send me back within three months.
It just wasn't my cup of tea.
It was nice to visit and see how others lived. There were not enough things for me to relate to. I was twenty-one when I moved here and the way people my age lived and it seemed like how immature they were at that age.
And how little they wanted from life.
They just wanted to kind of freeze that state of – "My parents are kind of paying my bills, still, I went to college but I still don't know what to do"!
That is so unrelatable to me. I had to support myself from the age of seventeen.
A lot of kids in Russia did the same thing. We grew up achieving things in our role. Our parents couldn't afford to support us. There was no such thing as – "We'll support you for the rest of your lives"
Truly extended families lived together for a long time. Simply because housing was such that you couldn't just buy a place to live. That didn't mean that you didn't have a job. When you went to college you pretty much knew who you wanted to be and you were working towards it.
So again, I just couldn't relate to people my age all that well.
So I really just wanted to come back.
And then I met my husband.
 
Hahaha…
Matthew Loomis: Right.
Hahaha…
Ana Hoffman: It's amazing how things change.

When you find that one thing to relate to and that's LOVE.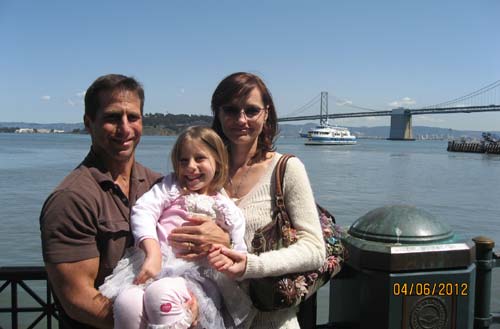 Matthew Loomis: Right.
Ana Hoffman: Suddenly everything just gets better.
He helped me kind of understand the culture better.
And he's become that rock. We've been married for nineteen years now.
Matthew Loomis: Congratulations!
That's great.
Ana Hoffman: I don't regret for a second that I ended up staying here.
Even though the first couple of years. Oooh, that was very challenging.
The cultural shock is a real thing.
Matthew Loomis: Yeah.
I can imagine.
So he was in the Air Force, right?
Ana Hoffman: Not when we got married.
But later. Within a year he wanted to go in and in many ways I admire him.
Within a year he wanted to go in and in many ways, I admire him for it. He is an attorney by trade, he went to law school. He found it very unsatisfying because he couldn't help people directly.
He wanted to see the change that he was making.
So the Air Force was a great career for him and he was in for ten years. And of course, I traveled around with him. Pretty much all over the world. He saw the direct impact he could have on peoples lives and that was great.
You Did a Bit of modeling At One Stage In Your Life, How Did You Enjoy Doing That?
Matthew Loomis: Yeah.
I read on your About Page during that time you got into modeling work.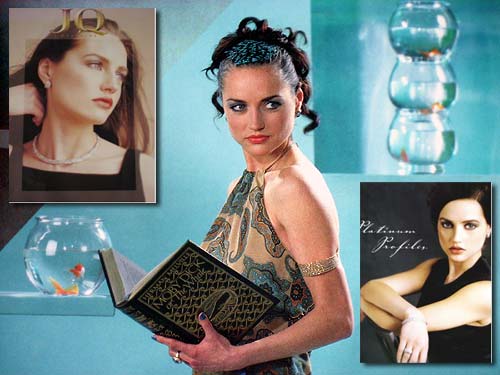 Ana Hoffman: Yes.
For a while, I did that.
It's something that I don't like to talk about.
A friend of mine went to Russia last summer. He came back and he said; "Wow Russian women are so beautiful and now I understand how you feel" I kept telling everybody, I grew up like one of the girls.
No a pretty girl, not a beautiful woman.
Nothing like that. It's only when I came to the U.S that people kept telling me; "Well you should start modeling" and I'm like; "Why what's so special about me"? But it's really honestly because I grew up amongst the most beautiful women in the world. (Sorry girls) It's just true, you know.
So when everybody was saying; "You should do that, you should do that"
I really had nothing else going on.
I decided to give it a shot. I had a lot of fun doing it for a couple of years and then it was time to say goodbye because modeling and being married and having certain moral standards…All those things didn't go together very well.
Matthew Loomis: Fascinating.
So you guys lived in Europe?
Ana Hoffman: Yeah.
Matthew Loomis: Then your daughter was born in 2007.
Ana Hoffman: Yes.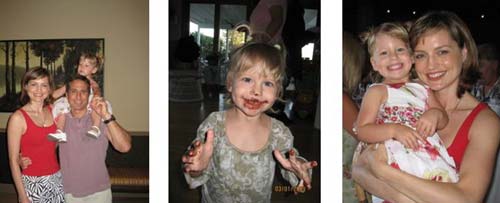 What Happened When the Recession Hit in 2008?
Matthew Loomis: Everything was looking great.
And then all of a sudden.
BAM! You and your husband hit a wall so to speak. That was right when the recession hit I believe in 2008.
Tell us a little bit about what happened.
Ana Hoffman: Right.
Right. Well, my husband hit a wall in his military career in 2008.
Not that his career progression had any trouble but he did not like the leadership at the time. He didn't see that leadership changing for a while and he did not want to stand by that kind of leadership. So basically on moral grounds, he decided he was going to get out.
That was great. Unfortunately, he ended up getting out of the military at yes, during that recession and it took him a year to find a job.
So here we are with a mortgage with a brand new child and unemployed for a year.
It was really very challenging. That was my turning point because I started looking for an online career. I was taking care of our child so I couldn't really go and get a job outside. I suppose I could of but I didn't want to. Raising her in those first years was too important for me.
So I started looking for an online career.
I started looking into eBay selling but that wasn't going very well. Just kind of odds and ends and found out that you actually can have an online business that's completely online. That doesn't require any kind of physical handling of goods which is exactly what I wanted to do.
And I guess a couple of years down the road led me to where I am right now on my blog.
Matthew Loomis:Right.
So that hard time.
Those struggles kind of propelled you to where you are now with Traffic Generation Cafe.
Ana Hoffman: Absolutely.
And of course it's easier to look back and say; "Oh wow that's what made me who we are these days"
But back then it was a horrible time in our lives. It's hard to think; "Well someday this all will be passed"
Matthew Loomis: Yeah.
When you are in the midst of it, it is challenging.
Ana Hoffman: It is challenging.
Definitely.
Did You Ever Turn to Anyone Online to Help You Get Educated in Digital Marketing?
Matthew Loomis: When you were educating yourself.
In digital marketing and going this direction.
I'm curious, who did you turn to for that education online.
Ana Hoffman: Good question.
I just read a lot and I'm a good listener and that's what I teach everybody to do.
As you read you need to listen to other people talking. Who is mentioning who. Who is relying on who for good information and follow the trail. That's how I ended up finding people who seemed to have good credible information. Also, another thing that I turned out to be good at is testing the theories. I kind of said that in the beginning because it's that important
I kind of said that in the beginning because it's that important – You have to be willing to test what anybody said
. It doesn't mean because they say it, it will actually work.
I have become very good at testing the theories that I was reading elsewhere or even, I read a comment somewhere and somebody said; "I wonder if this could be done"?
Well, I don't want to wonder. I am going to figure out if it can be done.
A lot of traffic generation strategies that I talk about on my blog is something that you won't find anywhere else. I develop it as an idea that I heard else where and then I actually figure out how to make it work.
Most of it not only comes from theoretical knowledge because I did it or I'm doing it currently.
Matthew Loomis: You have the courage to test things?
Ana Hoffman: Well, I feel like I have no choice.
Nobody else wants to do it.
Matthew Loomis: Hahaha…
Ana Hoffman: People want to talk.
Talk, talk about it.
And again, I would hate for somebody to actually point out that, that actually doesn't work.
So I test.
You Do Keep a Record of Some of the Testing That You Do, Right?
Matthew Loomis: You do document some of your tests.
Right, on your blog?
Ana Hoffman: Oh yeah.
Absolutely.
If I open my mouth, I better make sure I have things to back it up.
Now, a lot of things are not hard stats. I could write a post because this is what I have observed happening. Do I have concrete numbers? No. But that's why I suggest that you take what has been working for me and test it on your own.
Your audience is different from mine. Your online presence, your niche, everything is different from mine.
From what the chances are. So take it to your business and test it and see if it works.
Matthew Loomis: Yeah.
Absolutely.
There's nothing wrong with failure, right.
Failure means you're doing something!
Ana Hoffman: Yeah.
Absolutely.
And there are plenty of bad ideas out there. But that's sort of the past defining good ones.
Now I wish they were all pros at wisdom. They're not unfortunately but that's okay and you know what, "a pearl of wisdom today, will be junk tomorrow" So again that is the nature of business always evolving and always changing.
If You Could Go Back to the Beginning of Your Blogging Career, What Would You Teach Yourself to Do Differently?
Matthew Loomis: Yeah.
If you could go back in time and talk to the beginner blogger Ana Hoffman.
What would you tell yourself?
Ana Hoffman: Hmmm.
You know when I first started I was so prideful in so many ways.
I felt that everything that I was writing was just the best. Because it was a revelation to me, and if it was a revelation to me, I assumed it would be a revelation to everybody else.
That's so not true. And that's where listening comes in.
You know I think this is something, maybe I've come up with it myself, maybe I didn't.
A recently favorite wisdom of mine is; "God gave us two ears and one mouth for a reason"
So, do twice as much listening and a lot less talking.
One I started doing that. Once I started listening to people that were giving me actual feedback and comments. Not just saying; "Oh such a great post"! You know it's always nice to have a pattern back but those comments are not really genuine sometimes.
Once you start listening to people, start listening to your customers. If you're not hearing any conversation around your business or your brand? That's listening to your customers in and of it's own. Because that means you're doing something wrong and people don't want to talk about it.
So you go out there, you go to Facebook, you publish a post. Be honest and say; "This is what I'm doing, what do you think"? "Is this working for you, is this not working for you"? "Give me honest feedback"
Get ready to get it too and get ready to absorb it and not fight it. See what you can get out of it.
So It's very very important to listen. Once I started doing that – I was a lot more successful!
Do You Engage With Your Customers More With E-mail Than Through Social Media ?
Matthew Loomis: Yeah.
I don't know about you.
But I'm listening and engaging more with people through e-mail than I am social media.
Is that true for you too?
Ana Hoffman: No.
I'm not very good with e-mail.
E-mail kind of scares me. I don't know why but it's not my favorite way of communicating.
Matthew Loomis: Okay.
Ana Hoffman: So I'm a lot better with comments.
And social media.
And social media doesn't mean that it's very surfacy to me.
I've had some great conversations on social media. Specifically, Google+ it kind of has that kind of depth to me. Even though I know not nearly as many people are using Google+
The depth of a conversation you can have there is priceless. You can't find that on any other social media channel.
How Blogging Has Made An Impact on the Life of Ana Hoffman!
Matthew Loomis: Okay.
Well,  Ana, I've got the last question here for you and this is something that I ask all my guests.
How has blogging changed your life?
Ana Hoffman: You know.
It gave me purpose and value.
Purpose and value.
Something that I have been missing before.
Once I got that purpose and value. I truly understood how my husband felt when he went into the military. It's that idea of being helpful that is a two way street.
By helping someone you get so much back and so much in return that your value just goes up exponentially.
I love that about blogging!
Where To Connect With Ana Hoffman Online.
Matthew Loomis: Ana How can people connect with you online?
Ana Hoffman: Obviously.
I've said Traffic Generation Cafe so many times.
Their ears are probably falling off by now. But definitely, Traffic Generation Cafe dot com is absolutely the best way of getting in touch with me. From there you can get on my e-mail list and feel free to e-mail me back with any kind of questions or feedback. I'm always listening.
From there you can find me on social media – Either Twitter or Google+ or Facebook.
I'm active on all three. Not as much on the others. So if you want to connect with me there I will always get back with you.
Matthew Loomis: Okay.
And I'll have links to all those things in the SHOW NOTES.
Ana Hoffman: Perfect.
Thank you so much, Matthew!
Matthew Loomis: Yeah.
This has been a blast Ana, thanks for coming on the show and sharing your story with us.
Ana Hoffman: Absolutely a pleasure!
I always love talking about myself.
Matthew Loomis: Hahaha…
They say that's everyone's favorite subject, so…
Ana Hoffman: Probably.
Yeah. I I I music to my ears.
Hahaha…
Matthew Loomis: And I love interviewing people.
So. This has been great!
Ana Hoffman: Thank you so much Matthew.
Thank you for having me.
Show Notes
Traffic Generation Cafe: www.trafficgeneration.com
Weekly Marketing Skinny: www.trafficgeneration.com/weekly-marketing-news-9-12-2016/
Bite-Sized Marketing: https://www.goodreads.com/book/show/6898492-bite-sized-marketing
Automated Software: https://hootsuite.com
Google+: https://plus.google.com/+Trafficgenerationcafe
Ana Hoffman on Google +: https://plus.google.com/+AnaHoffman
Twitter: https://twitter.com/AnaTrafficCafe
Thanks For Tuning Into This Episode of – The Blog Chronicles.
If you enjoy the show, please subscribe on YouTube or iTunes and leave a rating or review to help other bloggers find us.If you want to chat with me on Twitter, look up me up: @mattloomis
WILL YOU BE NEXT?
So who's going to be my next guest on The Blog Chronicles?
Well, we're going to go South of the Equator down to Buenos Aires – Argentina to meet with Hernan Vazques. Hernan has three online businesses and we're going to talk about how entrepreneurs, business owners, and freelancing bloggers can effectively use their websites to bring in prospects and make sales. Using strategies like video content curation and PPC.
I'll see you next time!

Author Bio:
Matthew Kaboomis Loomis is the owner of Build Your Own Blog. Connect with him on Google+ and Twitter